Before you can understand how carbon fiber can help solve the oil crisis, you have to understand what it is. Carbon fiber is a super strong material that's also extremely lightweight. Engineers and designers love it because it's five times as strong as steel, two times as stiff, yet weighs about two-thirds less. Carbon fiber is basically very thin strands of carbon — even thinner than human hair. The strands can be twisted together, like yarn. The yarns can be woven together, like cloth. To make carbon fiber take on a permanent shape, it can be laid over a mold, then coated with a stiff resin or plastic
However, they are relatively expensive when compared to similar fibers, such as glass fibers or plastic fibers.
Carbon fibers are usually combined with other materials to form a composite. When combined with a plastic resin and wound or molded it forms carbon fiber reinforced polymer (often referred to as carbon fiber) which has a very high strength-to-weight ratio, and is extremely rigid although somewhat brittle. However, carbon fibers are also composed with other materials, such as with graphite to form carbon-carbon composites, which have a very high heat tolerance.
1. Black Carbon fiber OR 2×2 Twill Weave
The popular 2×2 twill weave (the two over and two under pattern gives it a diagonal appearance) that many recognize as "the look" of carbon fiber. This weave also makes it more drapable, yet more delicate to handle. That means it can be applied more easily because it can be stretched to curves and contours with fewer complications. However, this also means you need a skilled applicator to apply this material and to handle the weave more carefully than a plain or 1×1 weave
2. Plain (1×1) Weave
The Plain or 1×1 weave is the second most used fabric type in the auto industry. The plain weave construction delivers uniform strength in both horizontal and vertical directions, for excellent stability and easy handling.
ROBSON DESIGN
offers both carbon fiber weaves in all items we sell. The majority of car model prefer in 2×2 twill weave however for our BMW M3 and M6 owners that comes with stock 1×1 carbon fiber on their roof we give them the option to match their carbon fiber roof.
Other manufacturer
The majority of carbon fiber parts and accessories are made using these two types of weaves mentioned above. However, not all carbon have same quality. Photo below is a sample of low quality carbon fiber, thin coating,low grade carbon fiber, easy to crack and peel,become yellowish.

So which weave pattern makes for the strongest fabric?
Each Carbon Fiber whether 1×1 or 2 x 2 is the same, strongest will depends on the thickness and how many layers of carbon fiber a manufacturer will be using.
Now that you have an understanding of carbon fiber weave types, next is to discuss the major types of carbon fiber cloths. In the auto industry there are 2 popular types of cloth, wet and dry carbon.
1. Wet Process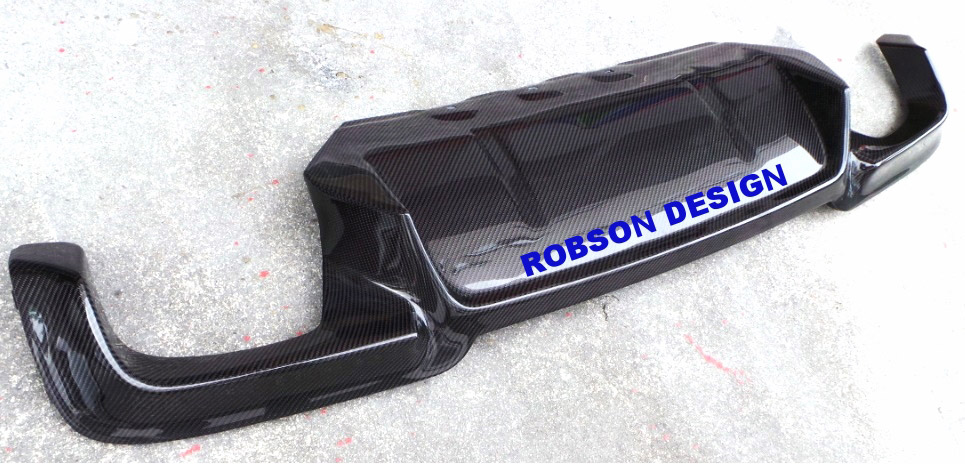 Wet Carbon is the most popular method for carbon fiber Front Lip Spoilers, Rear Diffusers and Trunks because it tends to be easier to manufacturer. All that is needed is a precisely measured amount of resin or epoxy that is then poured over the fabric, making the fabric "wet". This type of carbon can either cure in room temperature or like most they need to be baked. . Wet carbon products are hand-laid, and the plus side, you get an incredible combination of visual attraction with 3D effect.
This is NOT Sticker/Cubic Printing and instead of the common coating-Lacquer, we use Resin.
Resin is Scratch and chemical resistant and will not fade/discolor/turn yellowish over time like Lacquer.
(FYI, Lacquer is just a brush on for the glossy look)
The process of putting Resin is much more labor intensive.
*This is a Permanent modification. No peeling/fading overtime. With 3 years warranty provided
2. Dry Carbon

Dry is already pre-impregnated in the material. it needs high heat, and vacuum to cure correctly. Once the aero parts are molded it requires baking for several hours at a temperature of 250 degrees Fahrenheit. These are mainly used for racing car as their main purpose is weight saving. Most of the time, the finishing in dry/matt non glossy (no coating used). A more complicated process of fabricating parts therefore, high cost involve. The demand is lesser compare to Wet Carbon, This is why price tend to be 3 to 5 times more expensive when compared to wet carbon cloth.
hirty years ago, carbon fiber was a space-age material, too costly to be used in anything except aerospace. However today, carbon fiber is being used in most parts, automobiles, sporting goods, and many other applications.
Robson Design carbon fiber manufacturer are committed to continue developing to the commercialization concept of expanding capacity, lowering costs, and growing new markets, carbon fiber has become a viable commercial product.
Why would I go for ROBSON DESIGN?
Genuine Carbon Fiber
Fire Retardant
Permanent Finishing (NOT sticker or cubic printing)
100% Handmade
Scratch and Chemical Resistant
3D Effect
Unique, Sporty, Trendy & Executive Look
Easy Repairable if damage
Will not fade / peel / discolor or blemish
Product Warranty